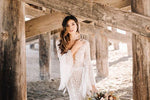 Boho Chic Beach Wedding Ideas
Bohemian weddings are a hit right now because they are relaxed, colorful and fun, beach weddings are always super actual because it's just a dream – walking down the beach aisle with breeze in your face. But what if we mix these two ideas in one? It'll be just gorgeous! Boho chic beach weddings are incredibly relaxed, full of sunlight, sand and salty breeze – isn't that perfection for a summer soiree? Bright flowers, feathers, Moroccan lanterns, gypsy textiles, shells and pebbles for décor are not only awesome but also budget-friendly and easily DIYable. Rock a lace boho gown with lots of cool accessories and a headpiece, go barefoot. Get inspired by the ideas below and go boho chic!
What To Wear
What to wear to a boho beach wedding? Grooms can choose anything but brides mostly prefer boho looks: there are lots of amazing boho lace wedding gowns with any silhouette, length and neckline to fit your taste and create a unique look. You may go for a more casual wedding gown, too, for example, a slip dress in any color – this is a dress that will always work. Accessorize your look with multiple bracelets, earrings, layered necklaces and anklets – there can't be anything excessive for a boho or gypsy bride. As for shoes, walk barefoot, go for embellished sandals or barefoot sandals – it's totally up to you and the look you want.
multiple bracelets, rings and anklets in boho and gypsy style are amazing to accessorize a boho beach bridal look
a boho lace wedding dress with spaghetti straps and an illusion skirt, a chain hairpiece are great for a beach boho bride
a flowy white boho wedding dress with lace trim, a chain and a simple wildflower bouquet
sexy off the shoulder sheath wedding and bridesmaid dresses, chains and floral crowns
a fitting boho beach wedding dress with long sleeves, a high neckline, a feather hairpiece for a boho bride
a simple boho beach groom's outfit with tan pants, a white shirt, suspenders and a printed bow tie
boho beach brides wearing simple white wedding dresses and colorful and neutral tassel kimonos plus a chain
gypsy embellished beach wedding sandals are amazing for a boho beach bride who doesn't want to go barefoot
a strapless boho lace fit and flare wedding dress and a fringe straw hat for a fashion-forward bride
a pink silk slip wedding dress with pompoms, a thigh high slit and a deep neckline worn by Malin Akerman
a boho lace wrap wedding dress with bell sleeves and a train plus statement earrings
a boho lace mermaid wedding gown with a plunging neckline, bell sleeves and loose waves
a boho lace mermaid wedding dress with cap sleeves and a train plus bright florals