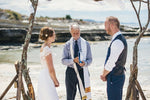 8 comfy & cute bridal sandals for your wedding
written by Emma Arendoski  | 
Are you wearing wedding sandals instead of heels or flats? Want to know where to buy bridal sandals that look cute for your big day? You've come to the right place!
It's getting cold outside, but it'll be heating up on the beach or seaside at your wedding and you'll need the comfiest, most beautiful pairs of bridal sandals to wear. Lucky for you, we've found eight beautiful pairs of wedding-worthy flat sandals, all with incredible details and embellishments to rock at your ceremony and reception.
Here's the bridal sandals that made our list of favorites, all from the amazing shop PinkyPromiseAccs. Christina is amazing! Check out her sandals below.
Where to Buy Bridal Sandals
From pearl embellishments to sparkles, the shop at Pinky Promise Accessories has. it. all. I love so many pairs; I need one of each! :) Take a look at our hand-picked wedding sandals for your big day.
1. Pearl bridal sandals, $154
These sandals feature one of our favorite bridal accents: pearls! They're made of 100% genuine Greek leather.
Buy them here.
2. Flat wedding sandals with pearl chain + flowers, $136
A pearl chain, flowers, and a cute ankle wrap: these flat sandals have it all!
Buy them here.
3. Greek goddess inspired sandals, $181
These leather bridal sandals feature Greek crystal chain accents and a stylish wrap-around style.
Get a pair here.
4. Flower bouquet sandals, $117
These flowers wrap around the entire sandal and feature colorful sparkle centerpieces.
Check them out here.
5. White rosette flower sandals, $108
Beautiful fabric rosette flowers adorn these leather sandals. They're perfect for wearing to all of your pre-wedding festivities.
See more photos of these sandals here.
6. Flat wedding sandals with sparkly accents, $136
These sparkly chain sandals are a perfect fit for the bride! I would wear these on the wedding day (and forever after!) This is a great pair of flat sandals for your honeymoon, too.
Buy here.
7. Beach wedding sandals, $154
Get your sandals adorned with real beach accents including shells and tiny pearls! A perfect pair of flat wedding sandals for your beach ceremony.
See them here.
8. Feathery bridal sandals, $145
These sandals offer the prettiest touch of feather accents for the bride! Pair them with this feather clutch purse for a perfectly complemented look!
Buy here.
Where to Buy Bridal Sandals
Ready to buy yours? See these + more here.
Happy Planning!
xo
Emma
Source: https://emmalinebride.com/where-to-buy/bridal-sandals/