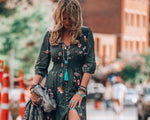 10 Bohemian Fashion Trends That Will Never Go Out Of Style
Bohemian style has, for over 200 years, been an exotic alternative to the accepted fashions of the times. In modern terms, bohemian fashion is applied to the people who live 'unconventional' and usually artistic lives, which is expressed usually through their carefree and distinct sense of style.
Bohemian fashion style immediately conjures up visuals of the mid-2000s Sienna Miller and Nicole Richie who embraced bo-ho chic as the 'it' style of the time. But, bohemian inspired fashion's original incarnation was thanks to the floaty, effortless nonchalance of Talitha Getty or Stevie Nicks channeled through a colorful caftan, trinkety necklace, an embellished sandal. 
The Bohemian lifestyle also has close ties to the celebration of music, and the boho style has become the uniform at festivals across the world, beginning in the '60s and '70s with hippies and the free-spirited who also encouraged an unconventional lifestyle. In recent years, the popularity of festivals such as Coachell, Burning Man and Splendour in the Grass, has seen a resurgence of boho fashion. 
RELATED: Coachella Festival Fashion 
The elements of bohemian fashion include loose, flowing clothing made of natural fabrics, colorful patterns and layering. 
Below, some boho fashion trends. 
Prairie Dress
Feminine, floral and fluid dresses will always evoke an effortless, boho style. Selena Gomez nails a modern take on the trend. 
Embellished Ankle Boots
Perhaps a staple from the boho lovers closet, a pair of suede boots will always help you pull off the laid-back bohemian style. This trend became a go-to in recent years thanks to the Chloe studded ankle boot, which was a boho girl must-have during the 2000s revival. 
Crochet
Crochet became a uniform for boho fashion and is still a major influencer in bohemian fashion. The popularity of Aussie label She made Me, has helped create a resurgence of crochet in recent years, having been worn on major stars like Kourtney Kardansian and Gigi Hadid. 
Flares
Flares have become a must-have for any boho lovers wardrobe, it's easy to see why. The cut is ideal for creating the illusion of legs for days and adds an instant '70s feel.
Layered Jewellery
Australian influencer Elle Ferguson  has become known for her beachy blonde waves and chic, effortless style. But, there's one thing the Elle Effect founder has mastered - with a little help from sister Baby Anything - and that's the art of layered Bohemian jewelry. Taking new and vintage pieces and pairing them together, Elle manages to create a layered look that is fluid, even among the chaos. 
Strappy Sandals
Offering ease and comfort, it's not surprising strappy sandals became an iconic boho-inspired style. 
Paisley Print
Often described as the 'classic Bohemian print', Paisley print is a painterly textile pattern that resembles a teardrop or seed-shaped vegetable. The print has transcended decades and remains one of the Bohemian trends most headstrong identifiers. "Paisley has been a popular motif in fashion for centuries," Jeremy Landmead, brand and content director of Mr Porter, once told BBC Culture. "And especially in the West following the hippie-inspired styles of the 1960s and 1970s, which have been having a resurgence of late with brands such as Saint Laurent, Burberry and Gucci adopting paisley." 
Fringe 
Thanks to Stevie Nicks, added fringe on clothing moved away from being 'cowboy' to evoking the effortless chic that is Bohemian style. Added to ponchos, jackets, accessories or dresses, fringe became an unspoken addition to the boho-inspired wardrobe. 
Maxi Dresses
Maxi dresses, no matter what era they're worn in, suggest ease of lifestyle that is quintessentially bohemian. From the one-of-a-kind finds in vintage stores to the high-end Camilla caftans, maxi dresses will always create a bohemian feel. Add an embellished belt and layered jewelry like Talitha Getty and you've got en entire boho ensemble. 
Mixing Prints And Textures
If you've got a natural ability to pair prints, textures, fabrics and accessories, then bohemian fashion is your go-to. Bohemian style was born from the relaxing of rules and birth of free expression, which can be expertly portrayed in the relaxed, artistic boho style. 
Capes
Championed by the likes of Vanessa Hudgens throughout her years of Coachella fashion, capes have become an easy and go-to piece for a bohemian look. Add with your denim cutoffs, crochet bralette and ankle boots.