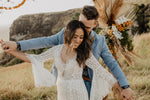 20 Intimate Elopements That Prove Less Can Be More
We
love
elopements! There's something extra special about dedicating an entire day (or weekend) to just you and your person. Whether you're dreaming of climbing a mountain, saying your "I do's" in the jungle of Tulum, dancing in the streets downtown, or anything and everything in between—we want to show you that less can be oh-so much more. These intimate elopements are sure to drive your hearts wild and give you all the inspiration you could ever need to plan a day that's uniquely you!
CHELSEA AND CARLTON'S YOSEMITE ELOPEMENT AT SUNSET
Where it took place: Yosemite National Park, Yosemite, California
Why we love it: The couple started their day cozying up in their dreamy little cabin before heading out to the park where they exchanged handwritten vows and hiked to the top of Taft Point just in time for some killer, and totally romantic, sunset photos. Pro tip: get a photography team who will attach your bouquet to your backpack in the most awesome, "adventure bride" way.
LINDSAY AND BAXTER'S GOLDEN HOUR PORTUGAL ELOPEMENT
Where it took place: Casas Caiadas, Alentejo, Portugal
Why we love it: Lindsay and Baxter travelled from California to Lisbon for their countryside elopement at Casas Caiadas in Alentejo — and it's everything sweet, sentimental elopement dreams are made of. Is there a better way to celebrate love? We're obsessed! These cool kids set the bar high with their bold and unique wedding outfits. Lavender cowboy boots? Say what?!
NIC + OODIE'S NEW ORLEANS ELOPEMENT AT THE LOUIE
Where it took place: The Louie, New Orleans, Louisiana
Why we love it: Oodie and Nicole's wedding day was not only full of lots of love and style, but creative, sentimental ideas. We love how these two read letters from loved ones on the morning-of and that they fit in a game of gin rummy (a staple in their relationship) before the big "I do." If you've ever dreamed of a New Orleans elopement, or anywhere for that matter, we know you'll be inspired by Nicole and Oodie's colorful, mid-century day!
CORINA AND TYLER'S FIJI ELOPEMENT
Where it took place: Fiji Highlands, Nadi, Fiji
Why we love it: There truly aren't enough adjectives in the English language to describe the beauty of this day, but we'll try to fit in as many as we can. The execution of every detail has us obsessed! If free-spirited vibes are your thing, you're going to love the dried floral ceremony arch, Corina's boho dress, and the fact that the duo toasted tequila shots post-ceremony.
AIDA AND ISMAEL'S TABERNAS DESERT ELOPEMENT
Where it took place: Tabernas Desert, Tabernas, Spain
Why we love it: We're totally obsessed with how this couple brought their personalities into the mix on their special day. On the morning of their elopement, Aïda and Ismael got ready together at a rustic-style building that used to be part of a western movie set. It was a perfect, moody space that gave off all those vintage rocker vibes! If you think their pre-ceremony location is cool, just wait until you see the vast desert where the couple shared their vows—and ceremonial vodka shots—under the golden Tabernas desert sun.
ALEXANDRA AND LEIF'S ITALIAN ELOPEMENT
Where it took place: Florence and Dolomites, Italy
Why we love it: Alexandra and Leif's emotional Italian elopement is everything our music and mountain-loving hearts needed. The couple decided to elope in their favorite places in the world: Florence for their getting ready location and the Dolomites for a sentimental ceremony. If you're into vintage fashion and unexpected surprises, you will surely be inspired by every little thing about this special day.
LOUISE & JAMES' TURKEY ELOPEMENT AMONG 100S OF HOT AIR BALLOONS
Where it took place: Sultan Cave Suites, Cappadocia, Turkey
Why we love it: We can't imagine a more romantic, picturesque place to exchange vows than with hundreds of colorful hot air balloons floating in the background as the sun rises over the Cappadocia landscapes. Louise and James wanted their outfits to match the scenery — and we're obsessed with how they pulled it off!
ADRI AND ERIC'S PATAGONIA ELOPEMENT
Where it took place: Laguna de Los Tres and El Chalten, Patagonia, Argentina
Why we love it: Adri and Eric's Patagonia elopement is literally everything you need for wedding location, bridal style, and couple portrait inspiration! The lakeside locale and the painted sky made for the most picture-perfect place for the couple to exchange vows. And the fact that the bride didn't let a little hiking get in her way of rocking a gorgeous Rue De Seine gown made us love this couple even more! If an epic elopement filled with unbelievable scenery and romantic moments is what you're after, take notes from this adventurous duo's day.
ASIA & ANA'S MYSTICAL TULUM ELOPEMENT
Where it took place: Tulum, Mexico
Why we love it: With dramatic florals and a spooky sweetheart table, Asia and Ana's Tulum elopement was something out of a mystical dream! When it comes to style, this couple has got it going on — we love Asia's lacy, boho dress and Ana's custom suit. If you're into witchcraft inspired decor, you've got to see the sweetheart table the couple dined at for a most romantic candlelit dinner. From a beautiful Shamanic ceremony to the coolest, moody couple's portraits, we're obsessed!
MADISON AND KANYON'S BIG SUR ELOPEMENT
Where it took place: Garrapata State Park, Big Sur, CA
Why we love it: We've never seen a Big Sur elopement like Madison and Kanyon's Big Sur elopement, and we are so here for it! If you haven't already noticed, Madison's captivating, three-piece, custom made gown has the most dramatically awesome train we've ever seen. With a dress like that, you must have a bouquet that lives up to it, and Love in Bloom did not disappoint with an absolutely stunning bouquet. This couple shows that all it takes is a little drama and carefully chosen details to make an already picturesque location even sweeter!
JODI AND ZACH'S CAIRNGORMS NATIONAL PARK ELOPEMENT
Where it took place: Cairngorms National Park and Inshriach House, Scottish Highlands, United Kingdom
Why we love it: Jodi and Zach's elopement in the Scottish Highlands had everything we love about adventure elopements: breathtaking scenery, unique style, and sentimental details. The couple and their guests spent an entire week bonding and falling even more in love with Scotland. Then, on their actual wedding day, they all trekked deep into the lush forests and fully embraced the unpredictability of Mother Nature as they exchanged vows, sang, and danced their way into married life!
LAUREN AND MELISSA'S WILD AND FREE NEW ZELAND ELOPEMENT
Where it took place: Auckland Courthouse and Piha Beach, New Zealand
Why we love it: Lauren and Melissa's elopement was a wild and free celebration in one of the most beautiful landscapes in the world! The couple truly spent day-to-night celebrating their love. Lauren and Melissa chose to do their first look backed by an epic view of the sea and couples portraits by an stunning waterfall. Then they headed to the courthouse to officially tie the knot and immediately headed for the black sands of Piha Beach to exchange vows and take the most stunning sunset photos! In case there was any doubt fairytales can come true, this elopement is proof that they most certainly do!
GRACIE AND MO'S BOHEMIAN ARKANSAS ELOPEMENT
Where it took place: Buffalo Outdoor Center, Ponca, Arkansas
Why we love it: The couple, who were planning a more traditional wedding for later in the year, got to also plan a bohemian elopement with only their trusty dog by their side.They went back to where it all started near the Buffalo River to exchange vows and eat cinnamon rolls in the grass. From the autumnal florals designed to the mini tent and picnic set up, everything reflected the bohemian vibe Gracie loves and the couple's laid-back personalities.
ASHLEIGH AND AARON'S BOHO GLAM PALM DESERT ELOPMENT
Where it took place: Palm Desert, Palm Springs, California
Why we love it: What's better than a Palm Desert elopement? A Palm Desert elopement that includes a fabulously beaded and tasseled bohemian gown, of course! Ashleigh and Aaron's low-key wedding day was the perfect representation of them as a couple. It was so low-key, in fact, they didn't even know the ceremony location until they arrived! With palm trees and desert views as far as the eye can see, they exchanged vows and toasted to forever with donuts and champagne. Then they ended the day eating tacos and drinking beer at The Ace Hotel. No fuss, no frill; just tons of love and off-the-charts style!
CHARLOTTE AND JAMES' CLIFFSIDE SANTORINI ELOPEMENT
Where it took place: Santorini, Greece
Why we love it: Charlotte and James certainly epitomized the less-is-more style in their Santorini cliffside elopement! They tied the knot with the caldera behind them and nothing more than a wooden A-frame backdrop and two white rugs to frame their ceremony…and the finished look could not have been more romantic. The rustic setting, the bride's sweet boho style, the couple's sweetheart reception, and the pink hues of the Grecian sunset all came together to create a truly breathtaking destination elopement!
MEGAN AND CAMERON'S SNOWY LOVELAND PASS ELOPEMENT
Where it took place: Loveland Pass, Rocky Mountains, Colorado
Why we love it: Megan and Cameron's incredible, wintry Loveland Pass elopement proves that good things come to those who wait! After a whirlwind romance and an epic engagement, this adventurous couple wouldn't settle for anything less than an exquisite setting for their special day, which made the snow-covered Rockies the perfect choice. The couple's day included a self-solemnized ceremony, a champagne toast, and a cake cutting on the back of their tailgate — and that simplicity couldn't have been more charming!
JULIE AND CALVIN'S YOSEMITE NATIONAL PARK ELOPEMENT
Where it took place: Yosemite National Park, Yosemite, California
Why we love it: Julie and Calvin's bucket list included a trip to Yosemite National Park, so they decided on a Yosemite elopement to kick off their marriage on an epic adventure together! The couple spent over 10 hours exploring on the day of their elopement — and it's one of the most incredible expressions of love of you'll ever see. Julie, Calvin, and their rockstar team hiked and took in breathtaking views at every turn. It was a true sight to see and remember for the couple.
TAMMY AND ALEX' 16 TULUM ELOPEMENT
Where it took place: 16 Tulum, Tulum, Mexico
Why we love it: From the lush, tropical floral installations and bouquets to the sweet "We eloped!" stationery, every single detail was perfectly curated to fit both the vibe of the venue and the couple's fun-loving, carefree personalities. We love the sweet touches of beautifully handmade decor from Tulum, as well as the jungle landscape and every little item that made the couple's sweetheart table oh-so-perfect.
KARLA AND BRIAN'S BUOAKIRKJA BLACK CHURCH ICELAND ELOPEMENT
Where it took place: Buoakirkja Black Church and Hotel Budir, Iceland
Why we love it: After seeing Karla and Brian's Buoakirkja Black Church elopement, it's safe to say we will always fall crazy in love with Iceland weddings! Between the tiny painted church in the middle of nowhere and the photo ops from the beach to the waterfalls, in the snow and among the horses, this elopement can really only be described as epic. The biggest surprise of the day came at the very end, though, when Karla and Brian got one last photo in the glow of the Northern Lights — a picture-perfect end to a perfect Icelandic elopement!
SAMANTHA AND JONATHAN'S LUSH OJAI ELOPEMENT
Where it took place: Private Estate, Ojai, California
Why we love it: With a ceremony in a yurt and a sweetheart picnic with beer and chocolates, Samantha and Jonathan's Ojai elopement was free-spirited and whimsical to the core! In keeping with the bohemian theme, Ojai Blooms created wild and organic floral designs in white and ivory and added tons of greenery for a lush, overgrown feel. White Sage Wedding & Events then added macrame, candles, and rugs to round out the bohemian vibe. If you've been looking for a charming, off-the-charts adorable bohemian elopement inspiration, look no further!
Source: https://junebugweddings.com/wedding-blog/20-intimate-elopements-that-prove-less-can-be-more/